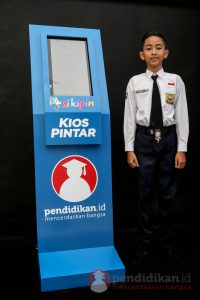 How Mahoni's Solution can reach not just urban market but more importantly, the 100 times larger rural educational sector.
A phenomenal growth on Jakarta-based startup that provides educational technology solutions to enable K12 students to study online with e-books, school videos and try-out online (exam practises).
"Pendidikan.id services are so simple and this is the reason over 1 million unique visitors keep coming back to the website every month" said one senior web traffic advisor. This has put Pendidikan.id website as serious top 2 player in Indonesia edtech sector.
Pendidikan.id provides most unique solution compare to any other edtech player in Indonesia.
1. Bukusekolahdigital.com is the front end amazing app and web server that has help over 68,000,000 ebooks downloaded free;
2. Pendidikan.id is the hub that put together all the modules for SD, SMP and SMA (elementary and high schools) contents
3. Kipin.id is the "assistant teaching machine"- ATM amazing machine that has reach rural education so effectively, some media called it as "The most innovative education technology invention in Indonesia education sector for the last decade"
What makes Pendidikan.id different than other educational learning players?
"The benefits of Mahoni's education platform can clearly be felt and enjoyed by the users. They don't try to look good from outside, they just want to help reduce educational-gap in Indonesia in the most effective way. You can test to bring all other available online edu-learning players in Indonesia to real market outside urban areas, and most likely they don't work! Or none of the students can afford it; Try Mahoni's KIPIN solution, the students and teachers would love it", that's the real difference said one senior teacher in Surabaya.
With a website name of Pendidikan.id, a generic name which means "education" in Indonesian language, Mahoni may be will be the de-facto education platform for the nation in the next coming years.