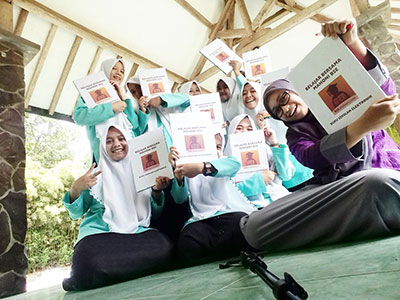 Pendidikan.id was released in January 2016 by PT. Mahoni Edukasi Digital, it is a platform that develops product services in technology of education. coming with 'Learning and Studying in digital way' motto, pendidikan.id offers many of online study programs that have so many benefits for all of students in Indonesia for FREE, few of them are :
1. Digital School Book (DSB), provides more than 3000 of school book for students from elementary school to high school. These ebook(s) can be downloaded from mobile apps such as Play Store, Appstore, Microsoft Store or even internet browsers (bsd.pendidikan.id). DSB consists of all study programs and various curriculum from KTSP 2016 until Kurikulum Merdeka. Many students have used DSB and even their parents across Indonesia.
2. Online Tryout, provides many free exercises for students from elementary school to high school practicing their skill at a certain subject at school. Once a student is finished, there will be a score table so the student will be able to evaluate their work. This online tryout was developed to facilitate students preparing for exams at school, even national exams. Online tryouts can be accessed for free at tryout.pendidikan.id.
3. Pendidikan Indonesia Video (PIV), provides many free educational videos with a concept " a form of visualization of curriculum textbooks". All of the mentors in PIV are official teachers who are competent in their fields. The videos are only 15-20 minutes long each, and with an attractive and interesting visual display, hopefully students will be able to understand the material easily. All of videos can be watched online at youtube.com/c/PendidikanIndonesia , or download it for free via video.pendidikan.id
Knowing that there are still problems with costs in the educational field, both in terms of tuition fees to the cost of books and other equipment. We want to be a place for students to learn, through means such as books, tryouts and educational videos be accessed for free. Based on this goal, PT. Mahoni Edukasi Digital released Pendidikan.id and wanted to contribute directly to the advancement of the quality of Indonesian education. This of course will make students in 3T areas (frontier, outermost and disadvantaged) where internet access is still very minimal, able to use all pendidikan.id facility because all of the books and videos can be downloaded to be stored and opened without internet, and also be disseminated in the future.
In addition, Pendidikan.id also wants to harmonize the education system with the digital native nature of the millennial generation. Where the millennial generation tends to like work that is instant, practical and all digital. We hope that these ebooks, tryouts, and digital learning can increase students' enthusiasm for learning.
Pendidikan.id is not only useful for students, but also parents and teachers. Parents can monitor and learn the material their children learn easily, in the midst of busy work. Teachers can also use DSB, PIV or tryouts for a more effective and efficient learning system in the classroom. For this purpose, we are determined to always develop ourselves and come up with other new innovations. So that Indonesian students no longer complain about the cost of education which is getting more expensive every month, but rather get material sources easily, quickly and cheaply and even for free.
Vision:
Advancing Indonesian education through the use of digital technology, by creating educational facilities that are easy, fast, practical and inexpensive, even free
Mission:
– Provide applications that support the student learning process
– Conducting programs / activities that improve educational progress