There are so many good educational digital contents in Indonesia, but what good is that if the contents can not reach and touch the majority students nationwide? For example, if traffic jam is the problem, then the solution is to add roads and infrastructure, not to add new cars.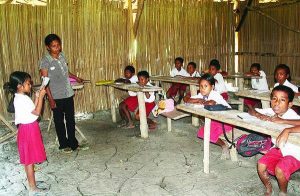 Indonesia is an archipelago country with ten thousands of islands, and majority of islands do not yet have digital infrastructure of stable and free internet for students. The minority school may have internet but it's not for sharing to students, but instead for teacher or principal making reports to Jakarta, the internet is for simple use of sending email, not stable and too slow.
Faster internet may be coming in the future, but should we wait for the next 5 years and do nothing now? It's like if you are hungry but you said "Oh, we wait until next week then I can eat all the seven days of food at the same time."
We can not wait any longer if we want to improve education in Indonesia and the fix is not on making another contents, the solution is on fixing the educational digital infrastructure (technology facilities) in schools. This is what KIPIN platform provides, because every school must have some key functions:
1. To provide educational materials to students, at very low cost or free;
2. To teach those materials very effectively from teachers to students;
3. To measure students understanding by giving quizzes and exams without those functions above, there is no purpose in providing school.
The additional challenge is the economic diversity among the students and parents, majority are low income in rurals with no purchasing power; so education materials for learning and exam practises must be almost free for them to afford (e.g. buying books and foto copy papers).
Pendidikan.ID first solution is famous as KIPIN ATM (Assistant Teaching Machine with exclusive eduSPOT technology), this smart kiosk will equip any school with over 50,000 digital contents for K12 students. The integrated hardwares, softwares, contents of over 2500 books, over 1500 teacher videos, over 50,000 quizzes and exams question practises, and over 250 literacy educational comics (exclusive contents) are very much required and in demand for all schools and students. All integrated with mobie application apps.
KIPIN ATM can be set up in just 3 minute in any rural school and it does not need internet, eduSPOT app technology can serve up to 500 students and for the whole school. Educational materials are solved and not longer a problem, all free to download and take home (100% download and go), very complete and integrated to mobile applications. At home student can repeat what has been taught at schools via thousand of ready videos, and they can take quizzes practises and have fun learning literacy educational comics!
The good news is that over 150 state and private schools will have KIPIN ATM by beginning of 2020!!!
A new solution launched in January of 2020 by Pendidikan.ID is KIPIN PTO (Portable Try Out system) to handle all daily quizzes and exams in school.
KIPIN PTO is a very effective integrated tool for paperless exams in classroom; it allows 45 students to connect concurrently via wifi at the same time to take exam. The setup time for the unit is just 3 minutes easy and once an exam is finished then the teacher will have the list of students with their exam's score result instantly – big time saver for teachers.
KIPIN PTO is portable, so teacher can go to next class for organizing another daily quizzes. The system does not need internet, so it will eliminate the possibility for students to cheat and find answer via google searches. Pendidikan.ID has done years of research and development to make sure those KIPIN products can be operated smooth at school without much support for anywhere in Indonesia. These solutions will create educational digital infrastructure facilities at every school to truly help millions of all students' nationwide.
Get further information about KIPIN at kipin.id.