Since Covid-19 pandemic started over a year ago, the gap in education has become wider in many developing countries such as Indonesia, Philippines, Vietnam, Malaysia and so on.
Two main reasons are internet access and ability to pay as explained in the picture below: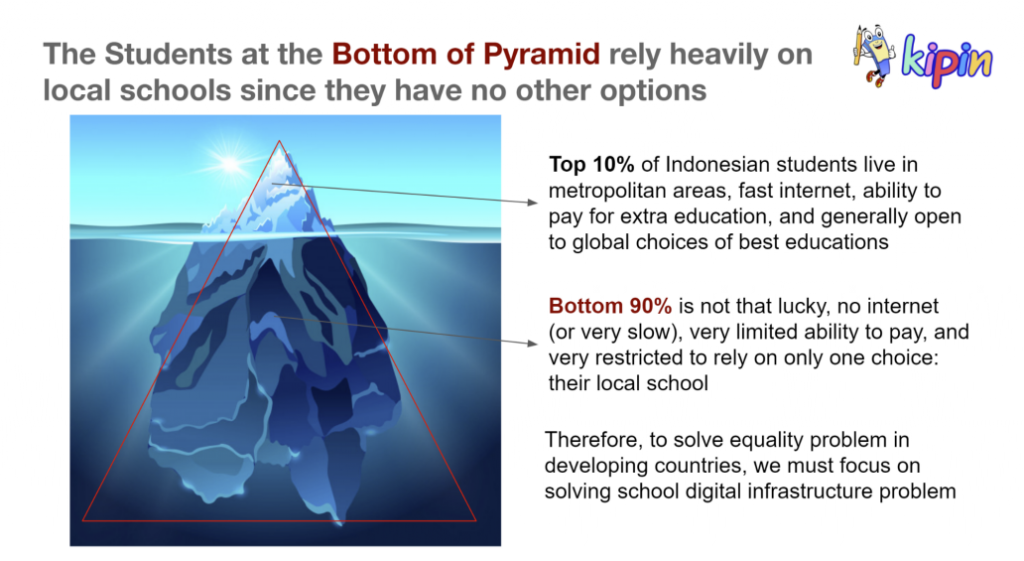 In this article, I will focus only on Indonesia as I am more familiar with it. As the leader of a country with 17,000 islands, the President of Indonesia knows about this very well better than anyone else. He told me clearly, Indonesia is not only Jakarta (metropolitan city) but also non-metropolitan areas which are so much bigger and so much larger in Indonesia. There are over 35 millions students living in those areas that need digital education (grade 1 to 12) but they do not have internet yet (or slow and very expensive).
What do you know about KIPIN?
It took us over 7 years to develop Kipin, because it is divided into 3 main components: 12 years of school curriculum contents, softwares, and applications. Kipin solves the chain of pain of schools completely from end to end, all in one
simple solution that works with or without the internet – packaged in one smart IoT device called Kipin Classroom.
Imagine School Digitalization in just 3 Minutes
Kipin Classroom is the IoT solution that can power any school in Indonesia with or without internet. It is designed to serve a collective group of users (e.g. classroom or school) effectively and easily without any human supervision.
Any student with the Kipin app can connect to the provided wifi access point and be able to browse and download school materials and contents free within 15 meters distance. This is done through Kipin eduSPOT server technology that gives digital access to all students even without internet connection at school.
Kipin Classroom IoT device specifications:
– Kipin School application for all devices with hybrid feature;
– Complete integrated contents: 3,000 ebooks, 2,000 videos, 50,000 tryout questions, and 4,000 literacy comics;
– Kipin powerful PTO softwares for digital exams and assessments;
– Kipin file management software for e-library feature with 200GB capacity;
– 8 hours battery backup;
– Allow 45 concurrent connection;
– Low price around $1450 with $36 monthly subscription;
– Guarantee return on investment in first month;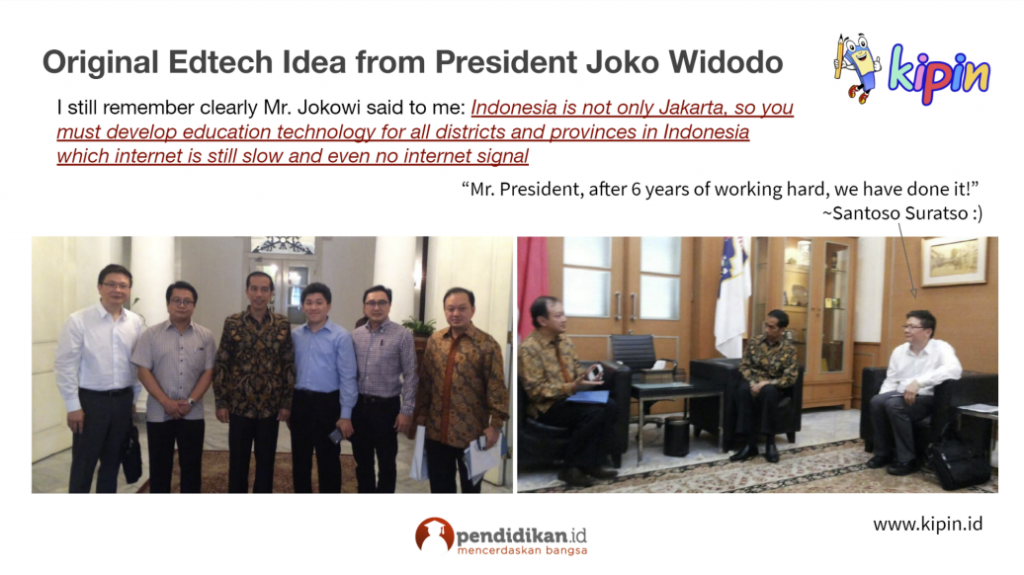 How do schools, teachers and students benefit from Kipin Classroom?
The most obvious benefits are the cost savings from not having to buy printed books and other learning materials such as videos, literacy comics, which are already provided in Kipin. Another top benefit is Kipin PTO (paperless test online/offline) powerful software which has everything a school need to do assessment (exams) digitally in the classroom of 45 students serving any devices including smartphones, tablets and notebooks.
One Software that Control All Seamlessly: Kipin School 4.0
Kipin School application is the brain software that connects it all, which users can download directly from Kipin Classroom IoT device. Once installed, users can benefit from so many native features exclusively available from the application.
For example: download-and-go that guarantees students to use educational contents at home without any further need of the internet, this feature is very effective for almost 99% of the students in Indonesia.
For distance learning students can experience real teachers lessons recorded in classroom videos, so students can feel like they are still attending classes at school from their home. Kipin tryout system allows students to take quizzes at home without wasting time and money making photocopies of previous exams. And the most popular feature of all is the literacy comics – exclusively only available in Kipin.