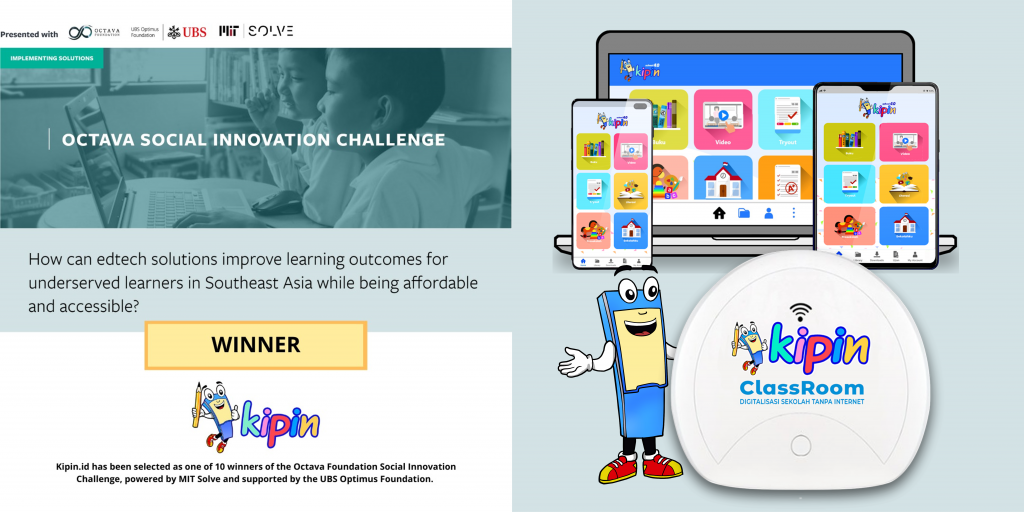 Kipin.id has been officially announced as a winner for Octava Foundation's Social Innovation Challenge, powered by MIT Solve and supported by UBS Optimus Foundation.
Over 200 solutions were submitted globally and 18 judges across leading education venture capital firms, impact funds, foundations and education experts evaluated these solutions to arrive at 10 global finalists, along with support from MIT Solve. Applicants were asked to undergo a rigorous selection process including an extensive written application, several pitch recordings as well as a live interview with over 12 education experts and judges globally. Solutions were judged based on 8 key criteria: alignment, potential for impact, feasibility, innovative approach, leadership ability, human centred design & inclusion, scalability and partnership potential.
The Social Innovation Challenge is a prestigious global competition that seeks to find edtech solutions which can improve learning outcomes for underserved learners in Southeast Asia, while being accessible and affordable. The challenge is a collaboration between MIT Solve, an initiative of the Massachusetts Institute of Technology (MIT) with a mission to drive innovation to solve world challenges, and Octava Foundation, a Singapore based private grant maker focused on enabling equitable education. This challenge is supported as well by UBS Optimus Foundation.

Kipin is proud to be selected as one of 10 winners globally, identifying it as one of the top edtech solutions serving Southeast Asia's underserved learners. VP of Business Development Steffina Yuli, said, "We are honoured to be selected as a winner and very excited to join MIT and Octava Foundation's network of partners. MIT is a top technology university globally and Octava Foundation is a leading education thought leader in the region. This brings us to a global stage. Together, this will help to bring Kipin's solutions to even more learners nationwide, and beyond."
As a winner of this challenge, Kipin will receive prize funding as well as a ten-month tailored support program run by MIT Solve and the Octava Foundation, which provides close mentorship, customised support and access to MIT and Octava's extensive network of partners.
To learn more about Kipin's solution, please visit:
For further information:
Email: [email protected]
Web: www.kipin.id
Youtube Channel: https://www.youtube.com/c/PendidikanIndonesia
Instagram: https://www.instagram.com/pendidikandotid/